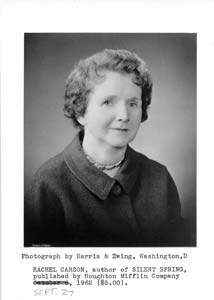 1960 – CBS airs Harvest of Shame, a show from Edward R. Murrow that described the working conditions of migrant laborers.
November 1960 – Sylvia Porter appears on the cover of Time magazine. She is the only business journalist ever to appear on the cover of a major U.S. magazine.
1962 – Rachel Carson publishes Silent Spring, which exposes the chemical industry for pesticides that harm animals.
May 1963 – Fortune launches Japanese edition called President. It was aimed at an elite audience of approximately 15,000 top executives.
September 1963 – Fortune has its first cover to feature a person -- GM's Alfred P. Sloan.
1963 – Jessica Mitford publishes The American Way of Death, which criticizes the funeral industry.
1964 – Society of American Business Editors and Writers is founded.
1965 – Ralph Nader publishes "Unsafe at any Speed." The book criticizes the auto industry for failing to make cars safer to drive.
1965 – Joseph Livingston wins Pulitzer Prize for reporting on Eastern European economies.
1966 – Washington Post hires Hobart Rowen from Newsweek to improve its business and economics coverage.
1967 – Dow Jones leader Barney Kilgore dies.
1967 – Institutional Investor is founded. It was early to recognize that investment capital was increasingly concentrated in the hands of big institutions like bank trust departments, pension funds and insurance companies rather than in the hands of individuals, and that this development would trigger massive changes in the nature of capital markets.
1967 – Fortune establishes its first overseas office in Brussels.
1968 – Carol Loomis becomes the first female writer to be elected to the Fortune board of directors.
1968 – Reuters expands its business news service into United States.
September 1968 – CBS begins running 60 Minutes. The news magazine show will be an aggressive reporter of corporate wrongdoing.
1969 – BusinessWeek adds a regular section to the magazine called Information Processing.